At the middle of France, the Haute-Loire department, land of
traditions and values is where Velfor Group was born.
It his source of inspiration and successful.
Created in 1973 at Saint Pal de Chalencon, by Pierre Brun, Velfor
Plast, became in the meantime the Group Velfor, is a major player
in plastic packaging and technical plastic pieces.
In spite of his evolution, Velfor Group is always a family business
because shareholding is held by Brun family.
Composing of 5 subsidiaries in France, each subsidiaries as his own knowledge, this complementarities of process, permits to answer at all specifiques markets requests.  The strength of Velfor will be to make you benefit from a single interlocutor throughout the collaboration
Key numbers :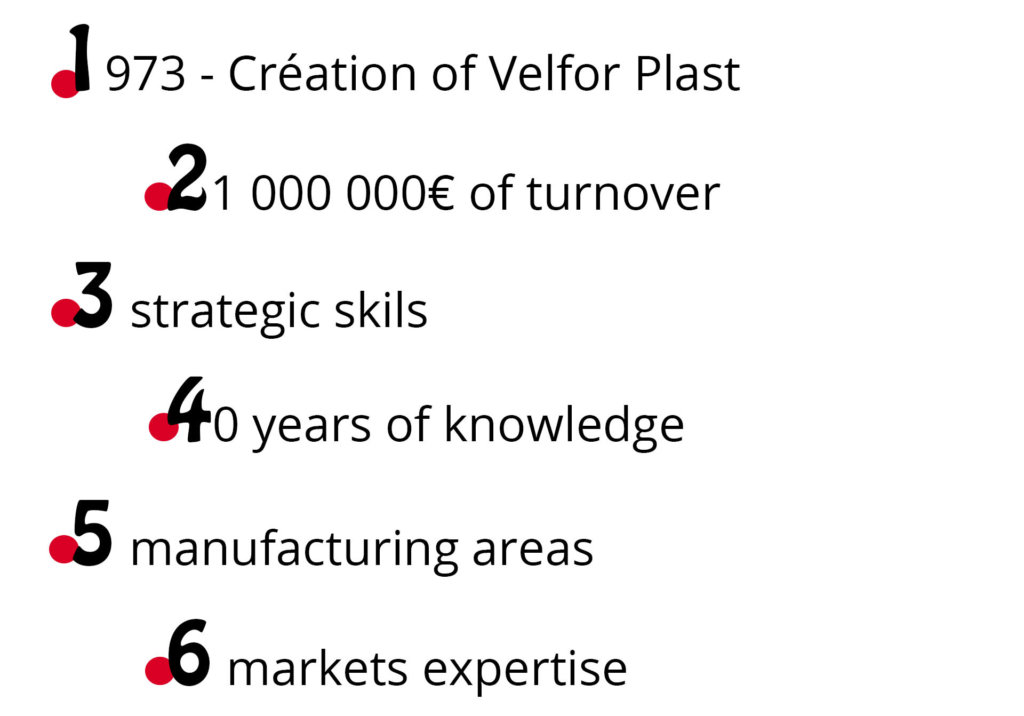 Our industrial tool :
21 thermoforming machines
1 prototyping workshop
1 tooling workshop
1 modeling workshop
3 packaging lines
3 numerical center 5 axes
26 000 m² of factory
2 jets ink machines
5 shrink tunnel
2 waterproofing testers
1 centralized conveyor line
6 thermoformer large wickness
15 welding high frequency
1 ultrasonic welding machine
8 cleaning rooms ISO 7 and 8
1 crusher
1 metal detector
4 numerical center 3 axes
1 numerical printer
1 extruder
2 screen printing machines
1 gilding machine
3 miling machines
1 grinding machine
Drills
Our factories :