Protection and aspect pieces :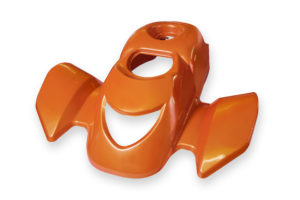 QUAD BODYWOK
Material: ABS/PMMA
Strong resistance to UV / Aesthetics.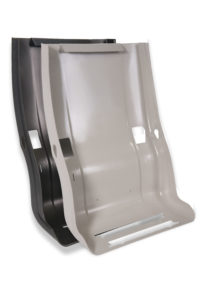 TRAIN SEAT
Material: ABS/PC
Shock resistance, fire / smoke.

BOAT ENGINE COVER
Material: ABS/Co-extruded
Design with snap-on inspection door to avoid disassembling the hood.
BUS MIRROR
Matierial: ABS
Complete solution: assembly, trimming, riveting, gluing
Applications areas :
Engine protection parts, battery boxes
Body parts, trim cover
Grill, bumper, mirrors
Cover panels, control screens, tablets, seating surfaces
Cover pieces for hairdresser
Materials :
ABS (neutral, co-extruded, regenerated)
ABS/PMMA – ASA
PMMA extruded, cast
PS, PS/PE
PC, ABS/PC
PP with talc, PEHD
PETG – PVC
Global offer :
Assembly, manufacturing, folding, welding hight frecuency
Accessories : rivets, label holder, foam, passes wire, die castings
Finalization : screen print, stickers, chrome
Handling :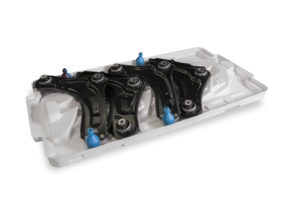 TRANSPORT TRAY
Material : PS
Stackable transport tray for turbines to turn to Galia bins.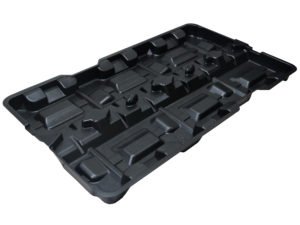 TRANSPORT TRAY
Material : ABS-TPU
Reusable transport tray for automotive market.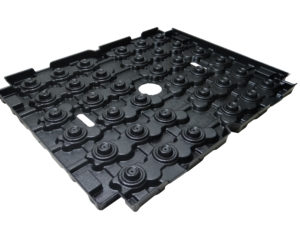 REUSABLE AUTOMOTIVE TRAY
Material : ABS-TPU
Tray for automobile pieces, the material avoid the sliding pieces during the transport to avoid tray abrasion.
HOLDING TRAY
Matierial : ABS
Hold and protection tray
of interior arms of vehicles.
Has interchangeable chocks.
Applications areas :
Transport tray
Storage tray
Holding tray
Chain conveyor trays
Trays for painting
Material :
ABS (neutral, co-extruded, regenerated)
ABS/TPU – TPU/ABS/TPU
Polypro – PBVC – APET – PS
PS/PE
PVC
Global offer :
Collage of reinforcements
Inserting of label holder
Riveting of complementary elements
Collage of labels
Filter welding
Possibility of engraving